Plus Size Sustainable Fashion: 11 brands
Sustainable and ethical fashion should be available at every size.
But it's not. It is actually hard to find ethical brands above a size 44 in Europe (UK size 16).
This is a roundup of great brands in the UK and a few in mainland Europe who offer plus size sustainable fashion.
The images I use below are from the brands mentioned, they all produce the clothes in plus sizes although some have used smaller models.
First up is Nomads. They produce fair trade clothing up to a size 18. They have a good selection of women's clothing and shirts for the men. I like the 'organic' tab which links to all the organic styles (obviously!) which are certified to a GOTS standard. They describe their look as bohemian slow fashion at its finest. Nomads suppliers are fair-trade certified, they want to protect the environment as well as the growers and workers in their factories.
Thought clothing also sell clothing up to a women's size 18 and men's XXL. They use a wide range of sustainable fabrics including organic cotton, linen, bamboo, tencel, hemp wool and recycled polyester. Thought focus on basics and also have more fashion-led pieces with some great prints. They are also members of The Ethical Fashion Forum.
If you are in Germany or indeed if you speak German (it's still possible to order even if you don't.) Then head to Hessnatur. They have selected sizes up to a women's EU48 (UK 20) and a mens EU size 56. They have a huge selection of clothes to choose from and specialise in sustainable fabrics such as organic cotton and modal.
Mudd and Water are another UK brand who produce women's clothing up to a size 18. They have a wide selection of dresses, tunics, knitwear, leggings, tops and accessories. All of their suppliers have gained the Global Organic Textile Standard, therefore, they only use sustainable fabrics including organic cotton, linen and tencel. Mudd and Water clothing is made in small ethical factories in India, using environmentally friendly dying and printing methods.
Kitty Ferreira is a British brand that produces the most gorgeous clothes up to a UK size 26. It is also possible to have something custom made if preferred as the pieces are all made in the UK. They source all fabrics in the UK and use eco dye using pomegranate, onion skins and other herbal dyes. Kitty Ferreira want to portray that plus size sustainable fashion doesn't have to be hippy and can, of course, be sophisticated.
Madia and Matilda offer handcrafted sustainable British fashion up to a UK20 in selected styles. The pieces are designed and made in the UK with upcycled and sustainable fabrics. One of the many great things about this brand is they use models of all different sizes and ethnicities. Founded by designer Shalize Nicholas, the brand will be celebrating 5 years next month. Catch me taking over their Instagram on the 15th of March to help them celebrate!
Of course, there is always secondhand shopping, arguably the most sustainable way to shop. My favourite online secondhand store is still Oxfam and they have a wide range of plus size sustainable fashion up to a UK size 28. The Oxfam website is constantly updated and there are lots of bargains to be found, often still with tags attached.
If you prefer something more personal, head over to Etsy. It is full of handmade and vintage clothes. The linen clothes from My Linen Clothes are so pretty and selected styles can be made to a UK size 24. Created in Latvia from a small team who produce clothes with care.
Gudrun Sjödén
Gudrun Sjödén showcases a wide variety of plus size sustainable fashion up to a UK size 22. Sustainable fibres make up 93% of the garments at Gudrun Sjödén. They have a code of conduct they use to help protect the workers who make the garments. However, the best thing (I think) is that they use their own eco-labels to help showcase the most environmentally sustainable garments as well as the strictest audited manufactured items.
Amamiko vintage inspired dresses are produced with oeko-tex cotton in the most amazing selection of colours and prints. They prove plus sustainable fashion doesn't have to be boring. The dresses are sewn in Copenhagen up to a dress size EU56 (UK28.) Check them out this weekend when they are due to launch a blouse collection too. The website is in danish but due to be updated to include English soon.
Finally, Seasalt Cornwall is a British brand. I've included them in this list because they have a good selection of organic cotton in sizes up to a UK26 (EU54.)
So there you have it. Any that I've missed? Feel free to add them in the comments!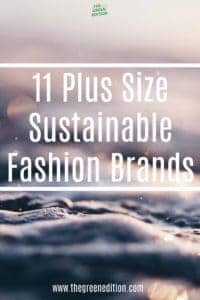 Sign up for 'The Green Edition' monthly newsletter here!
SaveSaveSaveSaveSaveSaveSaveSaveSaveSaveSaveSave
SaveSave
SaveSave
SaveSaveSaveSave
SaveSave
SaveSave
SaveSave
SaveSave
SaveSave
SaveSaveSaveSave
SaveSave
SaveSave
SaveSave