Why I Curated a Capsule Wardrobe
I remember moving into our apartment when we first came to the Netherlands. The apartment I loved wasn't furnished…. It was perfect apart from this small negative. Deciding to go ahead with the perfect apartment, we rented some furniture to go inside it. The horror when I saw that we only had one wardrobe each! I decided to rent another wardrobe each to hold the massive amount of clothes that I was trailing around with me. Along with a huge chest of drawers. 
And I filled the wardrobes and chest of drawers! The apartment I lived in was a two or three minute walk from the fast fashion stores that we now see on every high street in Europe, so any gaps in my wardrobe were quickly filled.
Fast forward to two years later and I'm using about half the space to house my wardrobe. I am the proud owner of a capsule wardrobe. I have a seasonal wardrobe with around 35 pieces in it. Each season I clean my wardrobe out and set up the capsule for the next season. I keep a suitcase of items that I am not wearing during the season and pull this out every time there is a changeover.
And what triggered this change?
Well, it can be a little soul destroying to have a huge wardrobe of clothes and still not be able to work out what to wear! I would end up wearing the same outfits ALL THE TIME. Most of my clothes were poorly made and didn't fit well. I didn't understand how people could afford to pay more for clothes, I spent lots of money on clothes so how could I afford better quality?? When I found out about the environmental and social issues involved in the fashion industry, I knew I had to make a huge change.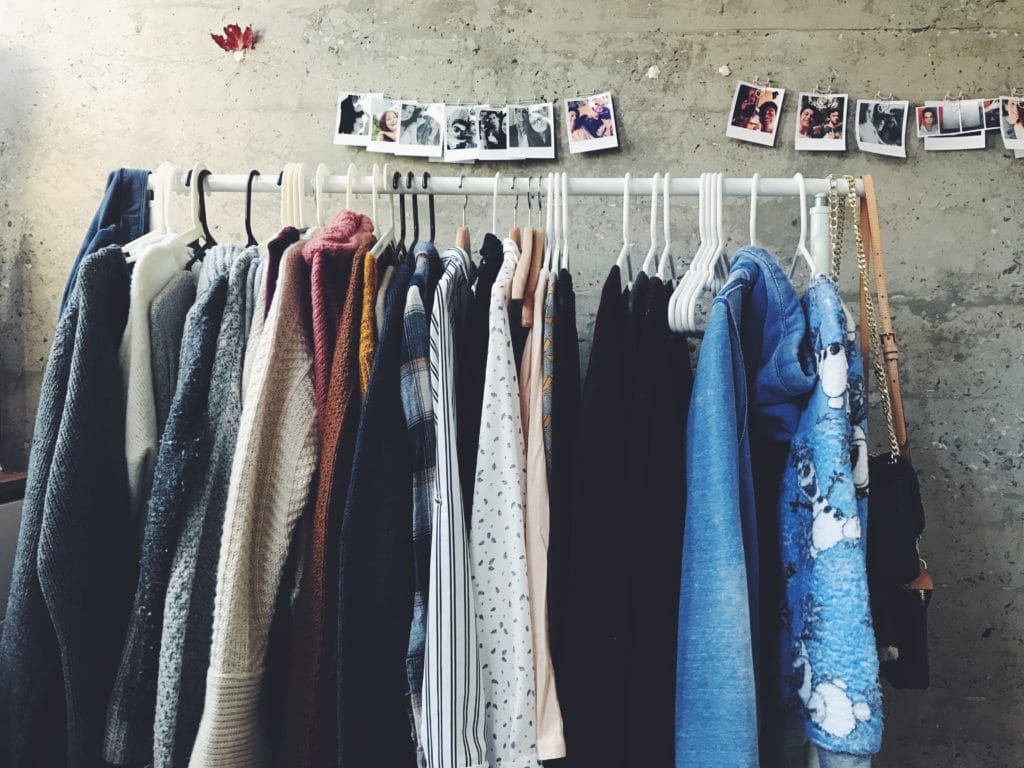 I wasn't ready to shop secondhand or wear a hemp bag every day. I wanted my wardrobe to be simple, but also fun. I wanted to make sure my clothes didn't harm the environment but I still wanted to feel like me wearing them. I didn't want to spend a fortune on a huge amount of clothes when the people producing them didn't get paid a living wage.
I started to read and watch videos about women (mostly) from all over the world who had started to feel them same and decided to curate a capsule wardrobe. Some of them are Caroline from Unfancy, Jamie-Lee from Mademois-elle and Courtney from Bemorewithless. They all have great style and found the capsule wardrobe experience has helped with that.
Needless to say, I gave it a go and haven't looked back since. Well there was that one time I tried to do without it for two weeks, read more here.
The main reasons for sticking to it are as follows:
It has helped me figure out what I actually like to wear.
Less clothes means I can afford higher quality.
Less shopping leaving more time for more meaningful activities.
If I need to buy something new, I know exactly what I need to shopping is no longer stressful.
It is SO much easier to get dressed for different occasions.
Also, it is so much easier to pack if I'm going away on holiday.
I no longer spend lots of money on clothes I never wear, fancy dresses for instance.
I find it much easier to experiment with less clothes.
I have less wardrobes so more space in my apartment.
I'm generally less stressed.
Even in the depths of winter I don't get fed up of my wardrobe. I know it's filled with pieces I love and genuinely want to wear. I play around with my clothes much more than I used to but at the same time I know that if I want to sit in a pair of jeans and a jumper I can do that too. And there is nothing more exciting at the start of each season to pull out clothes I've not seen for three months. It takes shopping your closet to the next level!
Images from Unsplash.